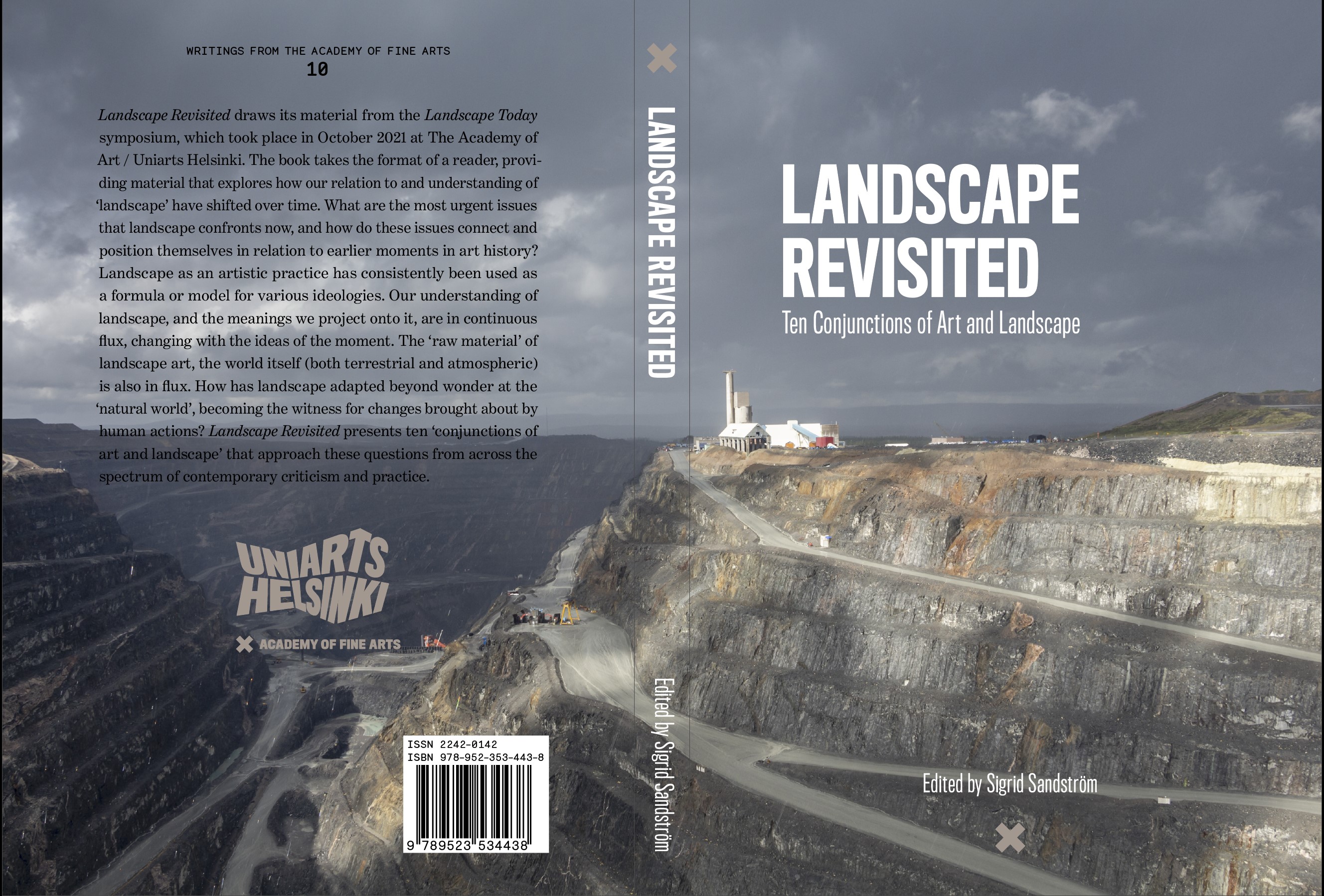 LAUNCH: LANDSCAPE REVISITED – TEN CONJUNCTIONS OF ART AND LANDSCAPE
Monday 4.12.2023 at 16–18

Welcome to the launch of Landscape Revisited – Ten Conjunctions of Art and Landscape – an anthology that explores how our relation to and understanding of 'landscape' have shifted over time.

At the launch Sigrid Sandström, Hanna Johansson, Riikka Stewen, Minna Långström and Samir Bhowmik will present their articles that are included in the publication.

After the presentation there is time for discussions and socializing – coffee, juice and some snacks provided!

Landscape Revisited draws its material from the Landscape Today symposium, which took place in October 2021 at The Academy of Fine Arts, Uniarts Helsinki. The book takes the format of a reader, providing material that explores how our relation to and understanding of 'landscape' have shifted over time. What are the most urgent issues that landscape confronts now, and how do these issues connect and position themselves in relation to earlier moments in art history? Landscape as an artistic practice has consistently been used as a formula or model for various ideologies. Our understanding of landscape, and the meanings we project onto it, are in continuous flux, changing with the ideas of the moment. The 'raw material' of landscape art, the world itself (both terrestrial and atmospheric) is also in flux. How has landscape adapted beyond wonder at the 'natural world', becoming the witness to changes brought about by human actions? Landscape Revisited presents ten 'conjunctions of art and landscape' that approach these questions from across the spectrum of contemporary criticism and practice.

Landscape Revisited – Ten Conjunctions of Art and Landscape
Writings from the Academy of Fine Arts (10). 2023
Ed. Sigrid Sandström

ISBN 978-952-353-443-8 (printed)
ISBN 978-952-353-444-5 (pdf)
ISSN 2242-0142

The publication is available in the University of the Arts publication archive Taju as an open access publication:

https://urn.fi/URN:ISBN:978-952-353-444-5


︎
ART021 SHANGHAI CONTEMPORARY ART FAIR
November 9 — 12, 2023
Link to event

︎
JANUS
July 7 — August 19, 2023
Anat Ebgi
6150 Wilshire Blvd
Los Angeles, CA 90048
Anat Ebgi is pleased to present Janus, a solo exhibition of new paintings by Swedish artist Sigrid Sandström.
The exhibition will be on view at 6150 Wilshire Blvd, from July 7 through August 19, 2023.
An opening reception will take place Friday, July 7 from 5 – 8pm.

More info

︎




Anat Ebgi
The Dallas Art Fair, Dallas, Tx
April 20 — 23, 2023
Fashion Industry Gallery, Booth F25.

Anat Ebgi is pleased to present a curated selection of works by Jessica Taylor Bellamy, Tammi Campbell, Amie Dicke, Alec Egan, Caleb Hahne Quintana, Jen Hitchings, Greg Ito, Karyn Lyons, Jane Margarette, Soumya Netrabile, Joshua Petker, Neil Raitt, Gideon Rubin, Sigrid Sandström, Krzysztof Strzelecki, Samantha Thomas, Janet Werner, and Ming Ying.
︎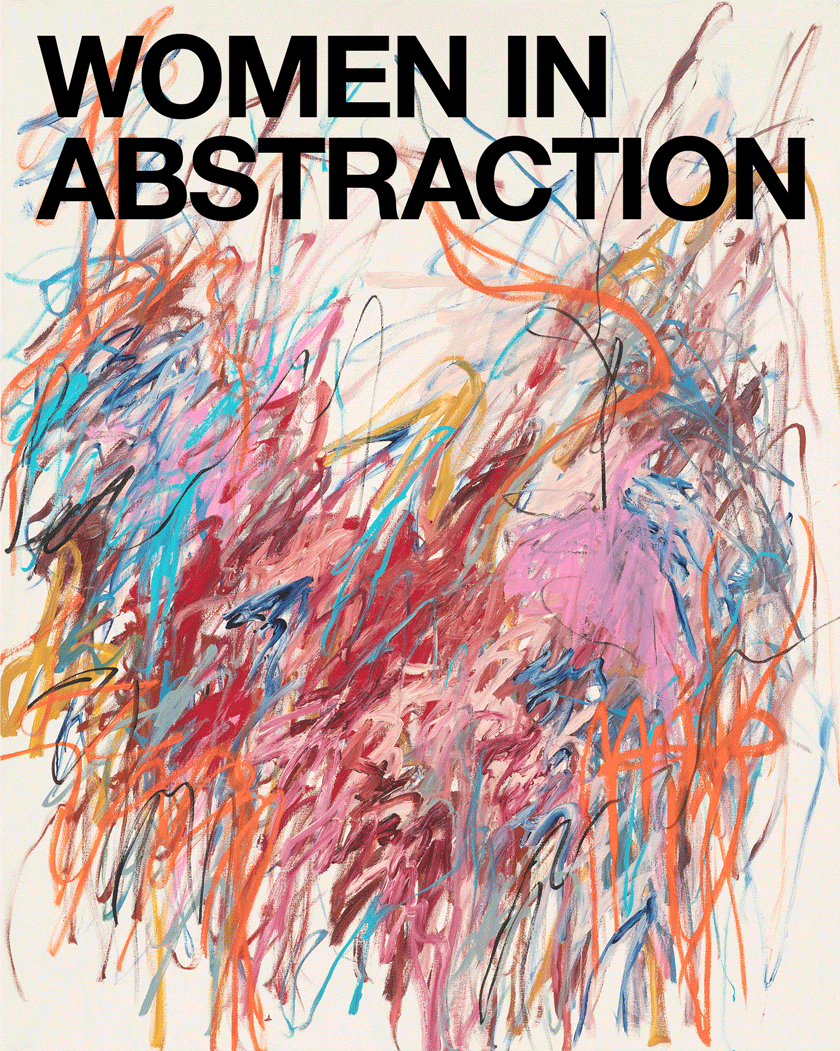 On International Women's Day we're pleased to highlight 𝗪𝗵𝗮𝘁'𝘀 𝗨𝗽 / 𝗛𝗼𝗻𝗴 𝗞𝗼𝗻𝗴 | 𝙒𝙤𝙢𝙚𝙣 𝙞𝙣 𝘼𝙗𝙨𝙩𝙧𝙖𝙘𝙩𝙞𝙤𝙣 featuring works by Sigrid Sandström and Molly Lowe, curated by
@lawrencevh
on view at the iconic Pedder Building.
From the pioneers of the movement to the new vanguard of female painters working today, the exhibition brings together an array of exceptional abstract works from the 1960s to the present.
𝔸𝕣𝕥𝕚𝕤𝕥𝕤 𝔽𝕖𝕒𝕥𝕦𝕣𝕖𝕕:
Rita Ackermann
Kristy M Chan
Sarah Crowner
Helen Frankenthaler
Lynne Mapp Drexler
Donna Huanca
Camille Henrot
Loie Hollowell
Rachel Jones
Molly Lowe
Yayoi Kusama
Joan Mitchell
A'Driane Nieves
Mariana Oushiro
Sigrid Sandström
………………
• Full pdf-file of the event
•
Link to event

︎


Sveriges Radio —
P1 Kultur
Lyssna på repotaget här:
https://sverigesradio.se/avsnitt/sigrid-sandstrom-gor-det-smaltande-arktis-till-gatfull-konst

︎
Sigrid Sandström — Under tiden
3 december 2022 — 10 april 2023
Vandalorum Museum för Konst och Design Värnamo, Sweden.
Link to event

Vandalorum har glädjen att till vintern presentera en soloutställning av den internationellt etablerade svenska konstnären Sigrid Sandström.
Sandström kommer att inta museets största lada med en serie nya monumentala målningar, fritt hängande i rummet. För första gången skapar hon verk på duk som är avsedda att upplevas från båda håll, med en fram- och baksida av samma dignitet. I utställningen visas även två grupper av målningar från det senaste året, med inbördes dialog.
Sandström har sedan debuten för drygt två decennier sedan, konsekvent utforskat måleriets förutsättningar och begränsningar. Med tiden har hennes storskaliga, avskalade landskap blivit allt mer abstrakta. Hon arbetar med att framgångsrikt tänja på måleriets grundelement: duken, färgen och appliceringsmöjligheterna.
Det flyktiga och obestämbara spelar en viktig roll i Sandströms måleri. Verken upplevs sällan som statiska utan som varande i ständig rörelse. Vad som ena stunden kan framstå som ett formmässigt experiment på ytan, kan i nästa övergå till en illusion av svindlande djup. Hennes verk har sällan en självklar riktning, vilket bidrar till känslan av föränderlighet. Detta, kombinerat med Sandströms färgval — där naturens dämpade gråskalor ofta ställs mot strålande, klara nyanser — får verken att närmast vibrera.
Till utställningen publiceras en katalog med en nyskriven text av den tyske författaren och konstskribenten Martin Herbert samt nytagna bilder av fotograf Patrik Lindell.
Rubin, Birgitta, "Spännande spökbilder och smart design på Vandalorum",
DN
, Jan 7 2023
https://www.dn.se/kultur/spannande-spokbilder-och-smart-design-pa-smalandska-vandalorum
Rubin, Birgitta, "Måleriet pulserar av liv", DN.s kritiker väljer 5 favoriter,
DN
,
Jan 15
2023
https://www.dn.se/kultur/dns-kritiker-valjer-fem-favoriter-vecka-2-2/


︎
Sigrid Sandström / Felt Paint – Activity and Thing
Sept 22, 2022
Oslo National Academy of the Arts
In this lecture Sigrid Sandström will reflect on the role time and place has played, and is playing, in her painting practice.
Painting somehow always lingers between its "thinginess" and the activity that precedes that thing. A slippery slope dried up. A painting is to me an object of experience, a time capsule stored with information, a thought-thing.
In this lecture I will reflect on the role time and place has played, and is playing, in my painting practice. I will discuss painted pictorial places within the paintings, as well as the surrounding exhibition places/ spaces in which the paintings are exhibited. I will also focus on the activity of paintings as a passage of time, manifested through the traces and records of a previous activity. Painting thus is where present and past tense meet.
The older I get the less I seem to know what my paintings are "about", I experience a kind of visual amnesia at times, and instead I am aiming for some other experiential approach to time. I paint to kill time and to understand time. And maybe to mark time.
This lecture is a part of the public program at the academy of fine art, and the talk will be led by professor Melissa Gordon. All talks are free and open to all, you can find the full program here:
https://artacademycalendar.khio.no/
︎
Sigrid Sandström: Recent Paintings

July 23 — August 27, 2022
Inman Gallery
3901 Main Street
Houston, TX 77002
Inman Gallery is pleased to present a selection of new paintings by
Sigrid Sandström
.
︎
If you forget my name, You will go astray
June 25 — August 13, 2022
Anat Ebgi
4859 Fountain Ave
Los Angeles, CA 90029
Anat Ebgi is pleased to announce
If you forget my name, You will go astray.
The exhibition will be on view June 25 – August 6, 2022 at 4859 Fountain Avenue. An opening reception will take place, Saturday, June 25, from 5-8 pm.
Alison Hall
Carmen Neely
Claire Colette
Erica Mao
Gwen Hollingsworth
Gwen O'Neil
Hannah Brown
Inka Essenhigh
Jen Hitchings
Jenny Morgan
Joani Tremblay
Julia Jo
linn meyers
Michelle Blade
Mónika Kárándi
Samantha Thomas
Sarah Ann Weber
Sarah Lee
Sigrid Sandström
Soumya Netrabile
︎
Intersect Aspen

July 31 — August 4, 2022
Anat Ebgi
Booth B2
︎
New Book

Published by Anat Ebgi Gallery
More info




︎


Radical Distance
Cecilia Hillström Gallery, Stockholm
24 February – 2 April 2022
We are pleased to present Sigrid Sandström's third solo show at the gallery, Radical Distance, which is also her largest show at the gallery to date. For the exhibition, Sandström has created floating spaces in which the figures are detached from the ground. The circle is a recurring theme in the paintings, suggesting the shapes of the moon, the sun or a simple dot. The circle also triggers a mental image alternating between a shape and a globe.
As a young painter, Sandström started out in the late 90's painting large-scale uninhabited landscapes with moons depicting a sense of scale and distance as well as indicating a passage of time. Those paintings were stemming out of a desire for a re-direction towards somewhere beyond her immediate self. These earlier paintings were made prior to the general awareness of the intensity of the climate crisis, prior to the new materialist writings, prior to any general concern with the Anthropocene and as until the other day prior to the agreement on a nuclear final repository. For Sandström, the emotional involvement and concerns regarding her immediate surrounding are still strong, but coming from a different angle, at a different age in a different time.
For the past year, Sandström has painted on raw cotton canvas, in contrast to the smooth polyester canvas she used in her gallery exhibition Dry Maars (2019). Some paintings have their backs presented as a reversed front, becoming faint echoes of themselves. The paintings literally develop during the process, where making imprints by using dyed cloth is an important part – suggesting a process which combines chance and control.
The exhibition also features small frescos adjacent to the paintings on canvas. Fresco is an ancient technique of mural painting where pigment mixed with water when added to a fresh (wet) lime plastered surface result in a chemical reaction where the painting becomes an integral part of the wall. The medium of fresco implies a certain level of permanence through its structural aspects whereas the paintings on canvas are more transient. Through these different techniques, Sigrid Sandström is making a material inquiry as to how our understanding of, and experience of, time might differ – something that remains continuously slippery and out of reach, and always at a distance.
The concept of "site" has always been a concern in Sigrid Sandström's working process, a search for a destination, for something to appear in order to locate the painting; the place that completes the painting. The depicted places have become more directly tied to the process of the making, unfolding through the sedimentations of the paint, the traces and cracks becoming visual time keys. The word residue– both physical and emotional – seems apt to describe the process.
The exhibition is accompanied by a text in Swedish written by Thomas Elovsson. Read the text
here
. The exhibition runs to 2 April.
︎
Anat Ebgi
The Dallas Art Show, Dallas, Tx
November 12 — 14, 2021
A group presentation with works by Tammi Campbell, Alannah Farrell, Sigrid Sandström, Janet Werner, and Sarah Ann Weber.
Website
︎
Expedition Konst
Prins Eugens Waldermarsudde,

Stockholm


Oct 30, 2021 — March 20, 2022
Website
︎
ANAT EBGI
The Armory Show

, New York
September 9 — 12, 2021


Javits Center

, Booth 230


︎

Recent publication with contribution by

Sigrid Sandström

:

Artful Objects
Graham Harman on Art and the Business of Speculative Realism
,

Sternberg Press


eds. Isak Nilsson and Erik Wikberg (contribution by: Daniel Birnbaum, Marcia Cavalcante Pierre Guillet de Monthoux, Graham Harman, Jenny Lantz, Isak. Nilsson, Sigrid Sandström, Ebba Sjögren, Emma Stenström, Lars Strannegård, Sven-Olov Wallenstein, Jo Widoff, Erik Wikberg)





︎

World of Art — Contemporary Painting
Suzanne Hudson

, Thames & Hudson, 2021
Sigrid Sandström included in new publication on contemporary painting edited by Suzanne Hudson




︎


Artforum
2021
Anat Ebgi is pleased to present Figure Ground, an exhibition of new paintings by Swedish artist, Sigrid Sandström. This is Sandström's fourth solo exhibition with the gallery and is accompanied by a text written by artist Amy Sillman.
https://www.artforum.com/artguide/anat-ebgi-7813/figure-ground-192478

︎


Boksläpp & Samtal, Malmö Konsthall
Försvinnandets förbindelser — En mobil samling


22 Maj, 2021. Kl 14 — 16 |

Website



Försvinnandets förbindelser – en mobil samling är ett samtal i bokform mellan konstnären och poeten Jenny Kalliokulju och konstnären Sigrid Sandström som kretsar kring arkiv, geologi och landskap som utgångspunkt för konstnärliga metoder. Boken handlar även om vägskälens betydelse för konstnärligt skapande. För att fira utgivningen har de bjudit in författaren och poeten Åsa Maria Kraft till ett samtal. Kraft har nyligen utkommit med diktboken Grus som berör omöjliga resor, flyktvägar och hemkomster. De båda publikationerna tar sig på olika sätt an platser och historier. Samtalet arrangeras av Den platta jorden – nätverk för konstnärligt utforskande av Skåne. Julia Björnberg och Anna Johansson från nätverket modererar samtalet. Försvinnandets förbindelser – en mobil samling är resultatet av det konstnärliga forskningsprojektet "Vägskäl och sidospår – empiri, erfarenhet och upplevelse i den konstnärliga processen" (Jenny Kalliokulju & Sigrid Sandström, Kungl. Konsthögskolan 2018–2020).




︎

Solo Exhibition at Anat Ebgi
, Los Angeles, CA
March 13 — April 24, 2021
Website
Accompanying text by AMY SILLMAN
Nowadays, because of the viral lockdown, I am reduced to peering at small on-screen photographic reproductions of Sigrid Sandström's new paintings. I wish I could fly to LA to see these paintings big and in person, not to mention fly to see them staged in any of the contexts where Sigrid has lived and worked, like Sweden, the Arctic, the south of France, or even New England. But the expanses and beholdings of these places come through in her work nonetheless. One great effect of Sigrid's work is the way she stages physical confrontations. Though she musters pictorial terms like measure, perspective, scale and mimesis, she contradicts the grandeur of those classical terms with a visceral, base materiality. You don't so much stand and "look at" these paintings as you tumble into their terms and are swept up into their activity, as you would be galvanized by a storm-tracking system broadcast on the weather channel with the sound off. In other words, there's a certain anxiety implicit in them, an organizational clarity around a quality of a stark and silent mystery. Even viewed from my laptop, I can see that her new paintings lay this contradictory picture even more bare and more succinctly rendered.

First you notice the individual elements of these pictures: a planet, a moon, a boulder, an iceberg, a swath, a veil, a cloud, a residue, a squiggle. Or just an arm sweep. All nameable things, though somewhat abstract, detached, distant from us. But each thing is organized neatly, like a child's book of prima materia. Each shape or vapor has its own distinct color: it's a pale yellow sun, a hot crimson pour, a tin-foil grey imprint, a pink digital notebook squiggle, a smoky trail. These constituent parts are set against a tidy uninflected ground, which would all seem to add up to a vocabulary of différance. But Sigrid has churned these elements up into a kind of primordial disequilibrium. Things are in motion, tipping over, horizonless, upside down or right side up, it's hard to tell in this vertiginous circulatory system. Things are tumbling around as if they were in celestial dryers. And in fact, the verbs that one can use to describe the action of Sigrid's paintings (tumbling, sweeping, cycling, churning) are as related to the settings on a blender or a dryer, to domestic chores, as they are to cosmology. So while at first you think of a solar system because of their various planetary orbs, soon you feel implicated in a simulated play of associations, with things let loose, things let go. Some invisible force may be holding these things together but it's not gravity, and it's not the ether, there's no visible horizon, no up or down. So what's holding the pictures together boils down to a painter's ground zero, the action on the tableau. The tableau might be a picture plane or just a kitchen table. Or both. The printed forms in her paintings might be distant icebergs seen from the prow of a ship, or just the up-close imprint of skin. Or both.

Sigrid proposes paintings that remind us of something, but it might just be a feeling, really: the variable scale at which life is experienced, and the way painting is not specifically instrumental in merely measuring it. The parts and the whole don't really explain one another, just as tasks and measurements and vanishing points don't really offer a manual for living. Sigrid embraces a 1970s expanded field of bodily techniques that upend a classical language, including parataxis, performativity, indexes, a flatbed space, pouring, and psycho-mapping. To these gambits she adds her 21st C anxieties and themes, geological time, worries about the Anthropocene, a variety of marks possible as in a digital toolbox, and an even greater ambivalence about the uses and abuses of subjectivity and emotion. Perhaps her overall purpose (and this might be the politics of poetic painting) is to find form for these ideas while keeping the project distinct from information technology, which painting decidedly does NOT boil down to. We feel that even more now, in lockdown. Sigrid's paintings reveal ideas as pressures, nodes lying in contradiction to other forms of thought– ideas vs. things, ideas vs. experiences, ideas vs. sites– but never ideas as equivalent to the painting itself. Her paintings pithily reveal necessary intimacies and contingencies, in an organized allowance of smears, wipes, and stained fingerprints, a script that is both tactile and ideal written in an abstract language. Her paintings indicate what oceanic feeling might look like, and she gives us materials, both auratic and pragmatic, for casting ourselves in to a generative matrix.


Amy Sillman

— March 2021

︎


Once In a Blue Moon,
group exhibition at Cecilia Hillström Gallery, Stockholm
15 January — & March, 2021

︎


Good Company: Pt.1 at Anat Ebgi, Los Angeles, CA
An inaugural group exhbition at the new second exhibition space at 6150 Wilshire Blvd, Los Angeles
Dec 5, 2020 — Jan 23, 2021

︎


CHART Art Fair 2020 De-Centered
Aug 28 — 30
Solo presentation with Cecilia Hillström Gallery
Video of conversation between Sigrid Sandström and fellow artist Lina Selander:
http://chgallery.se/sigrid-sandstrom-chart-de-centered-art-fair-stockholm-28-30-august-2020/

︎


Sounds from the EarthSolo exhibition
at Inman Gallery, Houston, TX
Jan 17 — Feb 29, 2020
Inman Gallery is pleased to present a selection of new paintings by Sigrid Sandström entitled Sounds from the Earth. The exhibition will open Friday, January 17, with a reception from 6:00 to 8:00pm, and continues through February 29, 2020. The artist will be present at the opening.

For the past 20 years, Sandström has been exploring the power of the painted surface to communicate visual precarity, and to encourage a sense of wonder and exploration in her viewers. The surface of a Sandström painting exists as a vestige, an imprint, evidence of a previous act while also depicting something visually different than its referent. It points to the past while simultaneously unfolding in the present moment.
In the early 2000s, while living in Houston as a Core Program Artist-in-Residence at the Museum of Fine Arts, Houston, Sandström depicted the fast-melting glaciers of her Nordic homeland. Attempting to communicate the fluid movement of the glaciers, she made a one-second film, using 24 small paintings. As her work became increasingly abstract, she pursued an experiential practice, in which her imagery emerged out of the painterly process rather than having a specific location in mind.

Sandström's paintings hover between the representational and the abstract and exist in a liminal space, operating on the threshold between the classic idea of the picture as a window into space and the modernist view of the painting as a flat, painterly surface. While presenting the viewer with printed and painted objects on the surface of the picture plane, she nonetheless teases out an illusion of depth and a sense of space behind the objects through their layering. As the artist has noted, her goal has been "to look at AND look through" her compositions. Sandström calls attention to the surface of the canvas only to peel away the flatness, revealing objects that feel as if they are held in suspension.
In more recent smaller works, Sandström isolates an object against a deep navy blue ground. The object floats in an indeterminate space without weight or an obvious means of attachment. Transcending their origin as residual marks from a printing activity, they appear as amorphous, undefinable forms. While reductive in scale and palette, these new works focus our attention and insist on the presence of the object in space, worthy of inspection and study.

While living in Houston, Sandström discovered the work of Texas modernist Dorothy Hood (1919–2000). Haiti, one of the grand Hood paintings owned by the Museum of Fine Arts, Houston, was a revelation to the young artist. Sandström recalls:
"I was knocked out by the monumentality of it and intimidated by the crisp perfection. It was just mesmerizing perfection! It just sat there so perfectly balancing between chance and utmost control."
In the south gallery, Sounds from the Earth (also the title of a Hood painting) unfolds as an homage to the late modernist master, featuring Hood's mid-1990s painting Yellow Stripe* along with a group of small Sandström paintings mounted on metal stands. Sandström's interest in Hood is as much about Hood's approach to life and her belief in the importance of painting as a tool of communication as it is about the paintings themselves. She says:
"Dorothy's paintings are serious to the extent that they run the risk of not being taken seriously. She believed in them, they are confident, and yet importantly, she was humble to the fact that she is human. She was someone who dared asking the larger questions through painting. I find her faith in painting moving, inspiring and powerful."

︎


Featured in Divan magazine
Nr 3-4 2019 (Swedish)
LINK

︎


Träden står ljust gröna:
Landskapsmåleri då och nu
Bonniers Konsthall
22 Jan — 29 March 2020
THE TREES, LIGHT GREEN:
LANDSCAPE PAINTING – PAST AND PRESENT
https://bonnierskonsthall.se/utstallning/traden-star-ljust-grona-landskapsmaleri-da-och-nu/


︎


Dialog 9
Konsthallen Trollhättan
Nov – 22 Dec 2019
http://www.periferi.nu/#filter=.utstallningar
Press
https://www.bohuslaningen.se/nyheter/v%C3%A4stsverige/konstn%C3%A4rerna-l%C3%A4r-av-varandra-1.20215584

Sextett med spännvidd, recension i Alba av Britt Nordberg
https://www.alba.nu/sidor/35517

Exhbition cataloue available at Konsthallen Trollhättan

︎


Sigrid Sandström & Jenny Kalliokulju
Galleri Thomas Wallner
Simris 7 sep — 13 okt 2019.

Vad gör krusningen?
Utställningen. En kollision av lager, linjer och former någonstans mellan det materiella och eteriska. Det som gör krusningarna började som en bild eller idén om en linje, som blir till cirkel. Linjen som skiljer bottnar från varandra. Linjen som skiljer havets lagringar och himlens stegringar. Ännu en horisont att trilla över. Horisonten är en orm. Ouroboros som biter sig i svansen och blir ett svart hål i det oändliga. Den formlösa oredan som omger den ordnade världen och orsakar dess periodiska förnyelse. Och så Gertrude Stein som skriver som skriver som skriver om skrivandet, eller något annat, kanske drömmen?
Havsbottnen drömmer. Dyner formas långsamt av små parallella pågåenden, vågorna och långsamma strömmar. Plötsligt krusas ytan, en sjöfågel tappar ett snäckskal i havet. Ett litet plums som vänder spegeln i cirklar. Någon kittlar den oceaniska magen. En liten havssnigel, knappt synlig under sanden. Vilse mellan plaskets solkatter, dess virriga spår formar en labyrint för oss att följa.
Den här utställningen är ett resultat av en pågående dialog mellan konstnärerna Jenny Kalliokuljo & Sigrid Sandström. Tankar kring glömska, geologiska tidsrymder, andra livsformer, klimatångest, översättningar och tolkningar, systematik och slump. Om hur oväntade situationer plötsligt uppstår och om nya verk.

http://www.gallerithomaswallner.com/exhibitions?lang=en

︎


Event Horizon
Marie Søndergaard Lolk, Sigrid Sandström & Hulda Stéfansdóttir at BERG Contemporary


August 10 — September 7
Klapparstígur 16, 101 Reykjavik

One of the main attributes of non-representational painting in modern art could be called the absence of a recognizable picture or image. Non-representational works have been described as silent or empty: emptied of any obvious narrative and any stable meaning of color or form; emptied to the point of zero. That point may open up the possibility of creating meaning – not least through an active reception – a possibility that revolves around the properties and materiality of the painted work and the perception, creative process and methods of the painter. Another way of thinking about such processes, is to focus on the dynamic relationship between the picture plane and the negative pictorial space. This approach reveals that the picture – the recognizable image – is only absent in the sense that its traces are active within one's consciousness and in the construction of meaning that its absence sparks. It is the negative space that lends meaning to the "positive", i.e. the shapes that appear on the picture plane. In figurative artworks, we tend to read negative pictorial space as the background of the work's imagery. As a key element in abstract works, on the other hand, it requires an active interpretation of the inconclusive intersection between the picture plane and the negative space, on the border between an image and its absence. This also reveals the complexity of the phenomenon sometimes called "depth" in painting.

The exhibition Event Horizon presents dialogues between abstract works by three artists:, Hulda Stefánsdóttir, Sigrid Sandström and Marie Søndergaard Lolk. The term "event horizon" refers us to the surface element of black holes, the liminal field where the gravity pull of black holes enables them to devour light. The term captures the event when visible matter (matter emanating light) disappears; the vanishing point when material is transformed as it merges with the void of the black hole. Event Horizon also alludes to a research project that recently lead to the publication of the first photograph of a black hole. How is it possible to picture a void? The image turns out to be a technically assembled product from numerous telescopes and it shows the liminal field as a slightly blurred, orange-hued ring around a gap that can also be perceived as a large, black dot. The visibility of the black hole derives from the visible phenomena (probably including so-called "dark matter") that have passed into its gravitational grasp. The photograph, therefore, is double-edged: the luminous circle can be viewed as the negative space that enables us to see "the picture", that is, the black hole itself. On the other hand, we tend to observe this ring – the surface of the black hole – as a positive figure on black ground and the black hole itself as its opposite, the negative space. This convoluted function of the photograph feeds directly into the subject matter that Stefánsdóttir, Sandström and Søndergaard Lolk are grappling with in this exhibition.

In their works, the three artists tackle an event horizon in the sense that the imagery dwells on the edge of visibility, on the boundaries of image and its disappearance. Their methods involve deferred meaning, withdrawal, resistance, displacement and inversion. Repetition and mirroring propel imagery out into the exhibition space. The boundaries between image, picture plane and background/foundation, between original and copy, between a work and its surrounding space are vague and intricate. Figuratively speaking, one could think of the black hole as point zero, the void that pulls, the ultimate negative space that lends meaning to everything, although it is ultimately the spectator's task to "figure out" what that meaning is or could be. The artists' work takes place at the event horizon, where visible signs affirm their fragmentary existence, even as they are on the verge of disappearing.


— Anna Jóa






Klapparstígur 16
101 Reykjavík
Iceland
http://bergcontemporary.is

︎




︎



︎


Solo Exhibition Dry Maars
exhibition at Cecilia Hillström Gallery
Opening Saturday 30 March 12.00 — 16.00
As a painter, Sigrid Sandström has continuously been exploring site as a concept as well as emotional experience. Over time, the depicted large-scale, barren and uninhabited landscapes have become more abstract. This time, a residency in the south of France is a starting point for her work. Living and working in the house of Dora Maar for a month, Sandström's paintings emerge step by step; a process imbued by impressions of the surrounding landscape.

By coincidence, the name Maar leads us to the geological phenomenon maar, a low-relief volcanic crater caused by an explosion when water comes into contact with hot lava. They are typically filled with water, but a dry maar is a dried-up remnant of a violent event. Perhaps Sandström's paintings are closely tied to the turbulent history of the earth, its millions of years of draughts, floods and geological catastrophes. On the other hand they can just as much be presages of what is to come. Sandström's paintings carry an immediateness, creating a suspension of time. It is in this gap that we are caught off guard –uncertain of time and space –in front of her works.





Cecilia Hillström Gallery


Hudiksvallsgatan 8, Stockholm
www.chgallery.se
info@chgallery.se
+46 707 646568

︎


PREVIOUS

︎


Welcome to Ed.art on Hagagatan 14, Stockholm on Thursday 14 March 5-7 pm, when we present the new monotypes

https://ed-art.se/sv/news/139_Sigrid-Sandstrom
https://ed-art.se/en/module/smartblog/details?id_post=139

Vi på ed. art är mycket stolta att lansera åtta nya monotypier av Sigrid Sandström! Sandström är en av våra främsta målare av idag, professor på Kungliga konsthögskolan sedan ett antal år och rikt representerad i våra museisamlingar. Den 14 mars presenterar vi de nya trycken hos oss på Hagagatan 14 och Sigrid Sandström berättar om process och tankar bakom arbetet, som utfördes tillsammans med tryckare Jenny Olsson.

Sigrid Sandström diskuterar med tryckare Jenny Olsson i den senares verkstad Tellus i Midsommarkransen

Monotypier är unika tryck vars metod ligger nära måleriets. Skillnaden är att konstnären arbetar på en yta, som förs över på papperet genom att köras genom en tryckpress, i stället för att arbetet görs direkt på papperet. Sigrid Sandström har tidigare arbetet med denna teknik och inför varje tryck improviserat fram bilder med hjälp av schabloner och olika slags papper i bitar. Även om varje enskilt blad är unikt finns möjligheten att få så kallade "eftertryck" och arbeta vidare med dessa till nästa blad. Det innebär att det ofta finns en kedja av grafiska blad som avspeglar varandra i någon mån. De kan ses som omtagningar, alternativa varianter utifrån en och samma utgångspunkt; en effekt av eko, som vaga visuella minnen som omförhandlas och blir nya bilder.

Hur blir avtrycket? Bilden som uppstår när tryckmediet färgats in och körts genom pressen mot papperet blir helt egen, men ändå ett eko av "originalet".

Även i sitt måleri arbetar Sigrid Sandström med tryck; målningarna byggs upp i olika partier och utsnitt som trycks för hand med olika material. Den överraskning som infaller när det som använts som tryckmedium tas bort, och blottlägger själva avtrycket, har blivit avgörande för konstnärens hela arbetsprocess, där slump varvas med noggrant överlagda beslut.

Många olika tekniker har använts för att få fram trycken, bland annat collografi, där Sigrid Sandström byggt upp "plåtar" av olika material, vilka sedan färgats in och gjort avtryck på papperet

Utgångspunkten för det senaste projektet var att göra stora tryck och hitta en slags transparens i färgen, eftersom det ger möjlighet att jobba med papprets vithet som ljuskälla. Olika material användes i tryckprocessen, såsom aluminiumfolie, tyg (tarlatan) och plastfolie med tunt valsad färg. Sigrid Sandström har arbetat medvetet med just avtrycket – bilder som omedelbart påminner oss om att det är just ett avtryck vi tittar på, något som inte längre är där. Bilden som ett spår. I de här fallen är förlagan visuellt något helt annat än avtrycket. För även om avtrycket avspeglar förlagan är bilden som uppstått helt egen. Avtrycket både redovisar bakåt i tiden och är en helt ny bild.

https://ed-art.se/sv/news/139_Sigrid-Sandstrom

VÄSTERÅS KONSTMUSEUM - KARLSGATAN 2 - vasteraskonstmuseum.se

Sigrid Sandström – Föreställningar



Utsnitt av verk. © Sigrid Sandström

8 DEC - 10 FEB 2019, 12:00 - 16:00

För Sigrid Sandström är måleriet ett utforskande i färg. Genom tekniker som tryck, måleri och tejpning, bygger hon upp sina målningar till komplexa rymder – experiment som växer fram i en växelverkan mellan slump och kontroll. För Sandström är upplevelsen och läsningen av måleriet en komponent som driver fram nya konstnärliga beslut och förhållningssätt till konsten. Hennes målningar är som vibrerande gränsland mellan konstnären och betraktaren där bägge projicerar sina upplevelser, erfarenheter och minnen.

I utställningen på Västerås konstmuseum pågår ett experiment som grundar sig i Sandströms intresse för ögats seende; betraktarens blick och upplevelse av den målade ytan. Besökaren inbjuds att vara en aktiv del i färdigställandet av utställningen genom ögats seende och medvetandets formande av en personlig föreställning.

Sigrid Sandström (f.1970) är utbildad vid bl a Yale University School of Art, USA. Hon är professor i måleri vid Kungliga Konsthögskolan i Stockholm där hon bor och verkar.

Föreställning (substantiv -en, -ar) uppfattning, aning, inbillning, fantasibild, framförande, skådespel

vasteraskonstmuseum.se

Artist talk with Sigrid Sandström and Suzanne Hudson (in English) 2018 DEC 12 , 18:00 - 19:00 - LINK
Review in the Swedish radioprogram Kulturnytt:

https://sverigesradio.se/sida/artikel.aspx?programid=478&artikel=7128341

Press:

https://www.salaallehanda.com/logga-in/hur-ser-vi-konst-sigrid-sandstrom-undersoker-konstens-optik-i-nya-utstallningen-forestallningar

Dessa platser - Skala 1:1, 17.11 - 8.12.2018 GLLERI OLSSON, STOCKHOLM, olssongallery.com

Press/ reviews:



http://www.kunstkritikk.se/kritikk/en-orm-som-omsar-skinn/?d=se

https://www.svd.se/varje-enskilt-verk-ar-som-en-sylvass-tanke

http://konsten.net/anna-bjerger-och-sigrid-sandstrom/

︎

Night Walk, a group exhibition at Inman gallery, Houston, TX. Participating artists: Tomory Dodge, Robert Ruello, Sigrid Sandström, Odessa Staub, Darren Waterston.

︎

"My Vicious Throbbing Heart: Animating Desire in Abstract Painting" a group exhibition at Franklin Street Works in Stamford, CT, and is on view May 26 through September 9, 2018.

Curated by Risa Puleo, the exhibition investigates the intersection of abstraction and animism as emphasized by certain formal qualities — goopy, sticky, ooey-gooey or otherwise materially luscious surfaces — in combination with aspects of pattern and repetitions such as flutter, throbbing, palpitation, pulsating, and orgiastic rhythms.

In "My Vicious Throbbing Heart," paintings by Claire Arctander & Latham Zearfoss, Anna Betbeze, Leidy Churchman, Anne Cousineau, Keltie Ferris, Matt Morris, Carrie Moyer, Lisi Raskin, Sigrid Sandstrӧm, Laurel Sparks, and Molly Zuckerman-Hartung take the forms of videos, installations of colored fabric and potpourri, a rope and rock assemblage, alchemical experiments on canvas and the gallery floor, and charred and dyed fur. The artists luxuriate in materiality while challenging the medium-specificity of painting.

︎


Ett samtal om samtida måleri.
Med Martin Herbert och Sigrid Sandström

Datum: Onsdag 7 mars, kl 18.00
Plats: Bonniers Konsthall,

Torsgatan 19, Stockholm



Välkommen på ett samtal mellan konstnären Sigrid Sandström och konstkritikern Martin Herbert om det mångfacetterade samtida måleriet. Samtalet modereras av Yuvinka Medina, programansvarig på Bonniers Konsthall. Kvällen avslutas i vår bistro med postpunkinfluerad pop av det svenska bandet Vulkano. På engelska.

︎





Catalogue for exhibition at Kulturens Hus in Luleå


Vernissage • Sigrid Sandström & Anton Elfving
September 02


Kulturens hus Luleå


Skeppsbrogatan 17, 971 79 Luleå


https://varmlandsmuseum.se/utstallning/molnet-the-cloud-of-unknowing/

Spring semester 2017
Visiting faculty at UCLA, Los Angeles, CA
http://www.art.ucla.edu/faculty/visiting.html


MARKET Art Fair 2017
http://www.market-art.se/exhibitors/galleri-gunnar-olsson


Group exhibition
March 18 — April 23, 2017
Polyfoni 4, group exhibition at Aglleri Thomas Wallner, Simris, Stockholm


Moon Days
Solo exhibition at
Inman Gallery
, Houston, TX
September 22 — October 16, 2016

︎

September 7, 2016 at 6pm
Book release The Site of Painting with Sigrid Sandström and Daniel Bozhkov at Art & Theory, Mindepartementet, Skeppsholmen, Stockholm




︎

July 30 — August 27
Other Places
solo exhibition
Anat Ebgi
Los Angeles
LINK




︎

August 21 — October 20
Suzhou Documents: Histories of a Global Hub
Suzhou Art Museum
LINK


︎

September 16: Opening solo exhibition,
Moon Days
Inman Gallery
Houston - LINK

︎




Opening | Thursday 12 November 17–20 Gallery Olsson Fredsgatan 12 and Cecilia Hillström Gallery Hälsingegatan 43, Stockholm
Sigrid Sandström, Between Us

Galleri Olsson and Cecilia Hillström Gallery are proud to present Sigrid Sandström's exhibition Between Us, featuring a series of large-scale paintings in two gallery spaces. Connecting the different gallery districts in Stockholm, the cooperation enables a larger presentation of Sandström's oeuvre, where she continues her exploration of painting in relation to the viewer and the surrounding space through installations and reflections arranged specifically for each gallery.

The windows of the galleries have been covered by yellow transparent film, creating a filter between the exterior and the interior. The intense colour becomes a link between the spaces and is also present in the paintings by Sandström. Paintings and mirrors are installed side by side, enabling an interaction between reflections and illusions. The effect of repetititions and duplications connects the paintings with the space and the viewer, whose movemements are being surveilled, observed and reflected.

Sigrid Sandström's practice is engaged with reflecting on the relationship between the painter, the painting and the viewer. Where, when and why lies focus? Sandström works primarily with painting, through which she has been exploring site as a concept as well as emotional experience. Over time, the depicted large-scale, barren and uninhabited landscapes have become more abstract. Her paintings fail to conform into categories, and continuously explores the ontological conditions and limitations of painting. The indeterminate, or unnamable, plays a central role both in Sandström's investigative work process and in relation to the viewer.

Article about the exhibition in Swedish press:



http://www.svd.se/sigrid-sandstrom-i-skickligt-dubbelspel/om/kultur:konst





http://konsten.net/sigrid-sandstrom-och-mari-slaattelid/





http://www.omkonst.com/15-sandstrom-sigrid.shtml





Programinformation
Vi träffar konstnärerna Carl Hammoud och Sigrid Sandström som har helt olika uttryck inom måleri. De går till sina ateljéer varje dag, men närmar sig sina verk på helt olika sätt. Hur vet de vad de ska göra, och varför väljer de så olika sätt att arbeta på?

http://urplay.se/Produkter/189953-Artityd-ateljen-Maleri

Längd: 8:27
Sändes: onsdag 16 sep. 2015
Tillgängligt t.o.m. onsdag 16 mars. 2016




Article about the exhibition in Swedish press:



http://www.sydsvenskan.se/kultur--nojen/konst--form/som-om-vald-begicks/





http://www.ystadsallehanda.se/kultur-noje/galleri-wallner-ebba-bohlin-sigrid-sandstrom/






link - fiskfrisk.com

Read or print the article (pdf)

Janury 29, 2015




Book release: Ingorance Between Knowing and Not Knowing (Axl Books, 2015)


Editors: Gavin Morrison, Sigrid Sandström

About this title: "Ignorance is an intellectual defect, imperfection, privation, or shortcoming." So begins James Ferrier's "The Agnoiolgy," the section of his treatise, The Institutes of Metaphysic (1854), in which he describes a theory of ignorance. In sympathy with Ferrier, Ignorance between knowing and not knowing concerns the nature of ignorance, its relationship to knowledge and its differentiation from merely not knowing. However, this book additionally considers how different forms of ignorance exert force within the creation and reception of art. These topics are explored through a range of essays drawn from contributors within the fields of philosophy, literary theory, and art criticism. Ignorance provides a reflection in negative to the normative structure of knowledge. It is the absence of knowledge that we "should have." This moral dimension can be seen in the persona, created by the medieval philosopher Nicholas of Cusa, of "the idiot," who is aware of his ignorance yet this awareness brings with it a humility, or the assumed ignorance within the Socratic dialogues. This book traces connections between ignorance within the philosophical realm - as both a strategy within discourse and as an object of inquiry - and how it occurs within art. Particular consideration is paid to art's utilization of ignorance as a means for establishing uncertainty and ambiguity. Within this publication ignorance is not solely understood as a state one seeks to escape from but rather, through its role within art and philosophy, it offers the potential to other forms of articulation and understanding.

Contributors: Andrew Bennett, Jonna Bornemark, Elinor Hållén, John Llewelyn, jeanine Oleson, Gavin Morrison, Sigrid Sandström, Barry Schwabsky, Kim West and Olav Westphalen.




Thinking Through Painting, part 2 Oct 4-Nov 2, The Royal Academy of Fine Arts, Stockholm

Participants: Kristina Bength, Marc Handelman, David Reed, Jan Rydén, Sigrid Sandström, Wendy White, and curator/theorist Jonatan Habib Engqvist.

Thinking Through Painting consists of Kristina Bength, Jonatan Habib Engqvist, Jan Rydén and Sigrid Sandström:

"We want to explore painting as way of thinking and creating meaning. We are interested in the alternation specific to painting between on the one hand concept-based thinking in language, and on the other an embodied mode of thinking through material, space, perception and painting as activity. The project is an on-going investigation since 2009 and encompasses workshops, studio visits, travel, meetings and interviews of other artists who work with painting."

In the exhibition at the Royal Academy they have asked the three invited American artists and themselves the question: How would you visualize painting as a mode of thinking within your practice? The exhibition is divided into two periods.





In Studio Talks: Thinking Through Painting (Arvinius+Orfeus, 2014), the group has transcribed, translated and edited long conversations between the group and several of the artists, theorists and other colleagues that we have met these last four years. Among others, they have spoken to: Fredrik Liew, Kristina Jansson, Monika Marklinger, Håkan Nilsson, David Reed, Håkan Rehnberg, Hanneline Rogeberg, Susanna Slöör and Wendy White. The book also holds essays by Jonna Bornemark, Lars-Erik Hjertström Lappalainen and Marcia Sá Cavalcante Schuback. This book is not only a documentation of Thinking Through Painting, it is the hub around which the exhibition and public talks are activated.
The book will be released in conjunction to the exhibition´s opening (part two) and generate a number of seminars and talks during the exhibition period, including artist-talks and an improvised lecture on improvisation with the French philosopher Jean-Luc Nancy.